West Ham players protect loved ones amid AZ fan outburst after Europa Conference League triumph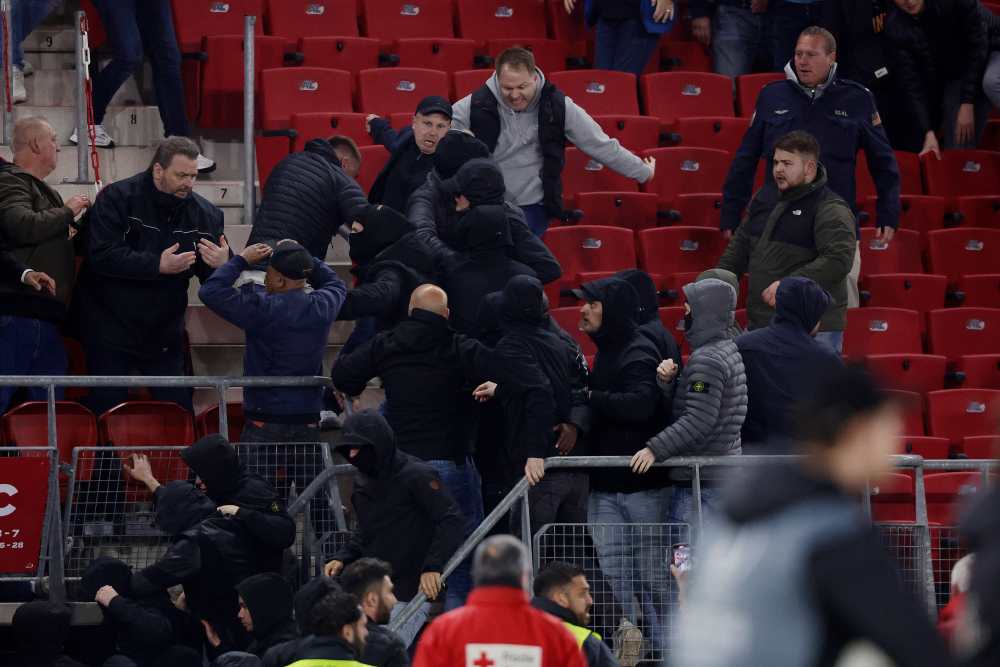 Following their victory over AZ Alkmaar, West Ham players found themselves defending their loved ones against enraged fans, as violent incidents erupted.
West Ham secured a 1-0 win in Alkmaar, with Pablo Fornals scoring in stoppage time, propelling the team to their first European final in nearly five decades, securing a 3-1 aggregate victory.
Initially, the West Ham players were joyously celebrating their historic triumph on the field. However, their celebrations were abruptly interrupted due to disturbances in the stands.
A group of AZ supporters, dressed in black, instigated trouble. Videos circulated on social media, depicting these individuals tearing down a fence and charging towards the stands near the dugouts. They proceeded to throw punches at spectators.
Reacting swiftly, several West Ham players jumped over the barriers to intervene, striving to restore order before security personnel arrived on the scene.
The West Ham group was seated in a designated part of the AZ Stadium when the AZ supporters managed to get through the fence and attack them.
The situation escalated into a brawl, during which West Ham captain Declan Rice and other players attempted to intervene.
No arrests have been made thus far, but Dutch authorities have initiated an investigation.
Police and stewards eventually arrived, diffusing the confrontation and reestablishing calmness after ten minutes.
West Ham manager David Moyes, whose 85-year-old father was present, said tensions in the camp were at an all-time high upon realizing their families and close associates were being targeted.
Pablo Fornals, the goal scorer of the match, expressed his concern upon witnessing the group of fans charging towards the stands.
The actions of AZ supporters running towards the area where West Ham officials, sponsors, and the players' loved ones were situated are likely to result in penalties from UEFA.
Several West Ham players, including Said Benrahma, Michail Antonio, Aaron Cresswell, and Flynn Downes, confronted the fans involved.
Pascal Jansen, the manager of AZ, issued an apology for the incident, expressing his shame and stating that such behavior should not transpire within their stadium. He emphasized the necessity of maintaining emotional control.