Tottenham signs Postecoglou as Head Coach after Celtics Domestic Treble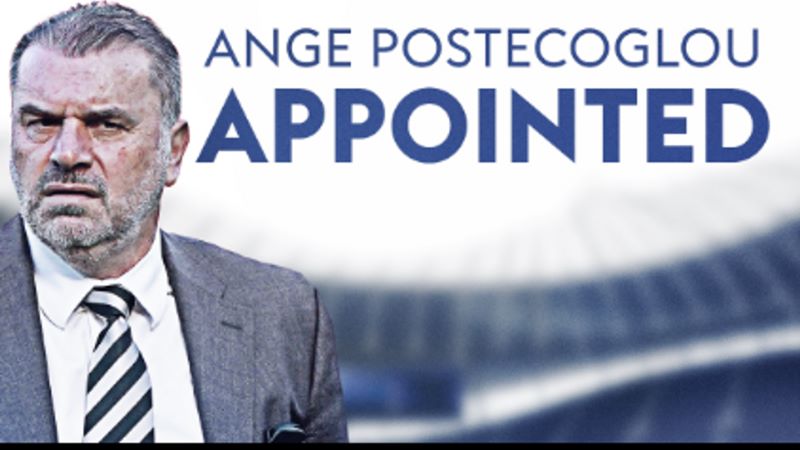 Ange Postecoglou has been announced as the new head coach of Tottenham on a four-year contract.
It was revealed that Postecoglou, who is poised to become the first Australian to manage a team in the Premier League, will commence his role at Spurs on July 1.
He previously spent two years at Celtic, where he achieved consecutive Scottish Premiership titles and a domestic treble this season.
The confirmation of Postecoglou's coaching staff will be provided at a later date, according to Tottenham.
Regarding the appointment of the incoming head coach, Daniel Levy, the chairman of Spurs, expressed his thoughts on Ange's appointment, stating that Ange brings a positive mindset and employs a rapid and attacking style of play.
Levy mentioned that Ange has a commendable history of nurturing players and recognizes the significance of fostering a connection between the academy and the first team, all of which hold great importance for their club. He conveyed their excitement in welcoming Ange as they make preparations for the upcoming season.
Discussions with Postecoglou, who is 57 years old, were held by Spurs on Monday, after reaching an agreement with Celtic to secure his services in North London.
Postecoglou emerged as the preferred choice last week, after Tottenham had considered other candidates such as Roberto De Zerbi from Brighton and Marco Silva, the head coach of Fulham.
Postecoglou takes over from Antonio Conte, who was dismissed in March, and fills the role of permanent Spurs boss following interim stints by Cristian Stellini and later Ryan Mason throughout the remainder of the season.
Celtic made efforts to persuade Postecoglou to remain in Glasgow, but the former Australia manager was enticed by Tottenham's proposal.
Postecoglou commented that Celtic had expressed their desire for him to prolong his tenure with them. However, he conveyed his utmost respect for their position and understanding of it.
He further mentioned that a new opportunity had emerged, one that he wished to explore.
In response to Postecoglou's departure, Celtic issued a statement on Tuesday affirming that the process of appointing their next manager is already underway.
The statement emphasized that although they aim to announce the appointment to their supporters as swiftly as possible, their primary objective is to select the most suitable candidate to lead the club forward.