The Top 10 Female Tennis Players Ever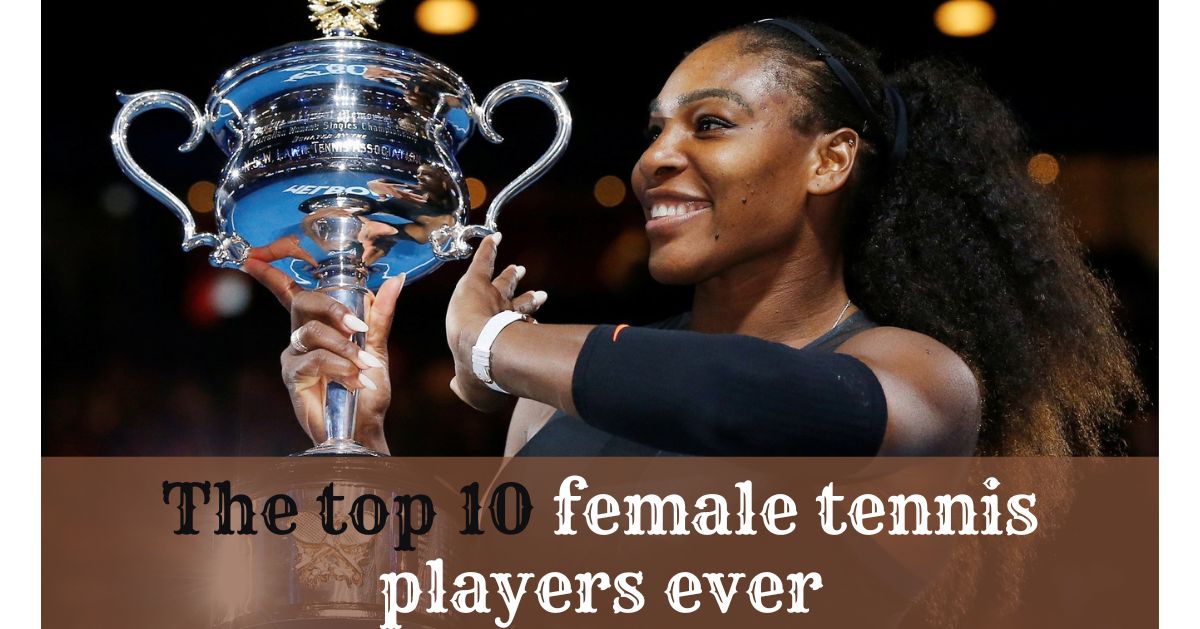 Introduction
Throughout tennis history, numerous talented and influential female players have graced the sport with their exceptional skills, dedication, and accomplishments, from dominant champions to iconic trailblazers.
1. Serena Williams
Serena Williams, a force to be reckoned with, has revolutionized women's tennis with her extraordinary power, athleticism, and mental toughness. With 23 Grand Slam singles titles, including a career Grand Slam and multiple Olympic gold medals, Serena has cemented her status as one of the greatest of all time. Her sheer dominance, longevity, and fierce competitiveness make her an icon in tennis.
2. Steffi Graf
Steffi Graf's elegance, precision, and versatility on the court make her one of the most accomplished players in tennis history. With 22 Grand Slam singles titles, including a golden Grand Slam in 1988, Graf's aggressive style and strong baseline play set her apart. She held the world's No. 1 ranking for 377 weeks, showcasing her unrivaled consistency and dominance.
3. Martina Navratilova
Martina Navratilova's impressive career spanned three decades, during which she won a staggering 18 Grand Slam singles titles and a record 31 major doubles titles. Known for her powerful serve-and-volley game, Navratilova's athleticism and strategic prowess made her a formidable opponent. Her contributions to the sport and advocacy for LGBTQ+ rights have left an enduring legacy.
4. Chris Evert
Chris Evert's remarkable consistency and textbook technique made her one of the most successful players in tennis history. With 18 Grand Slam singles titles, including seven French Open titles, Evert's composed and mentally strong style earned her the nickname "Ice Maiden." Her rivalry with Navratilova defined an era and captivated fans around the world.
5. Margaret Court
Margaret Court's record-breaking career saw her claim 24 Grand Slam singles titles, the most in tennis history. Her powerful game and versatility allowed her to dominate on grass and hard courts. Court's achievements extend beyond singles, as she won numerous mixed doubles titles. Her impact on the sport cannot be overstated.
6. Billie Jean King
Billie Jean King's contributions to tennis go far beyond her impressive playing career. A prominent advocate for gender equality, King's "Battle of the Sexes" victory over Bobby Riggs in 1973 became a pivotal moment in women's sports. She amassed 12 Grand Slam singles titles.
7. Monica Seles
Monica Seles burst onto the tennis scene with her powerful two-handed strokes and exceptional shot-making abilities. Before her career was tragically interrupted, she had already won eight Grand Slam singles titles. Seles showcased remarkable talent and was a dominant force during her prime, leaving fans to wonder what more she could have achieved.
8. Martina Hingis
Martina Hingis achieved remarkable success at a young age, becoming the youngest-ever world No. 1 in singles at 16. Known for her exceptional court vision and tactical brilliance, Hingis won five Grand Slam singles titles and 20 major doubles titles. Her all-around game and exceptional doubles partnership with Anna Kournikova left a lasting impression.
9. Serena's sister Venus Williams
Venus Williams, the elder sister of Serena, played a vital role in shaping the modern game of tennis. With seven
Grand Slam singles titles and a powerful, aggressive style, Venus's presence on the court is impossible to overlook. She revolutionized the women's game alongside her sister and has remained a formidable competitor throughout her career.
10. Suzanne Lenglen
Suzanne Lenglen, a pioneer of women's tennis, dominated the sport during the 1920s. With a graceful playing style and unmatched skill, she won 31 Grand Slam titles, including six Wimbledon singles titles. Lenglen's influence extended beyond the court, as she brought glamour and excitement to the sport, captivating audiences with her charismatic personality.
Conclusion
The top 10 female tennis players of all time have achieved remarkable success on the court and left an enduring impact on the sport as a whole. Their skill, determination, and contributions have shaped the game, inspiring generations of players to come. From Serena Williams' unparalleled power to Steffi Graf's elegance, these women have etched their names in tennis history, forever remembered as legends who elevated the sport to new heights.