Ronaldo to return to Europe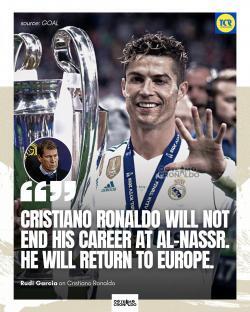 Cristiano Ronaldo astonished the world by signing with Saudi Arabian club Al Nassr at the start of January 2023.
After mutually agreeing to terminate his contract with Manchester United, the 38-year-old signed a two-year contract with Al Nassr to play in the Saudi Pro League; by the time his current contract comes to an end, the Portuguese star will be 40 years old.
Reports have confirmed that his agent had talks with a few clubs like Bayern Munich and Chelsea, but neither of the deals came through.
Rudi Garcia, the head coach of AL Nassr, has suggested a possibility for the ex-Manchester United star to return to Europe after his current contract comes to an end.
In a recent interview, Rudi Garcia stated that CR is definitely a positive addition to the team, as he assists in dispersing defenders. Rudi believes that the star is one of the best players in the world, and he will not end his career in Saudi Arabia but return to Europe.
Ronaldo made his debut in Saudi Arabia on January 19 in a friendly against Paris Saint-Germain. He didn't play for Al-Nassr but instead played for Riyadh's All-Star XI (a combination of Al-Nassr and Al-Hilal players).
The five-time Ballon d'Or award winner has made three appearances in the Saudi Pro League and one appearance in the Saudi Super Cup. He has scored a total of FIVE goals for Al Nassr already, despite appearing in only four games so far.
If CR7 was to return to Europe, the potential landing spots could be Sporting CP, Marseille, Atletico Madrid, or MLS.