Real Madrid Star Luka Modric Extends Contract, Solidifying Future with the Club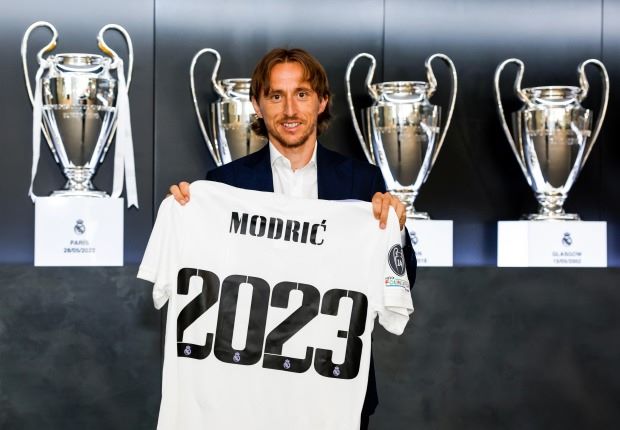 Luka Modric, the talented midfielder of Real Madrid, has recently agreed to a 12-month contract extension, ensuring his stay with the club until 2024.
Modric, hailing from Croatia, has been an integral part of the Santiago Bernabeu team, contributing to their success with an impressive collection of 23 trophies over the span of 11 years.
Initially, there were speculations about Modric potentially moving to Saudi Arabia's Pro League as his previous contract was nearing its expiration at the Bernabeu.
However, the Croatian maestro has now chosen to remain with Real Madrid, dismissing lucrative offers from abroad.
Since his arrival from Tottenham in 2012, Modric has made 488 appearances for the club, securing three La Liga titles and an astonishing five Champions League triumphs.
In 2018, Modric's exceptional performances led him to win the prestigious Ballon d'Or, following his triumph in one of the Champions League campaigns and his exceptional display at the World Cup in Russia, where he was honored with the Golden Ball.
It is worth noting that Modric's commitment to Real Madrid goes beyond monetary gain, as he declined what is said to be one of the most generous salary offers ever presented by the Saudi Pro League.
Expressing his joy and loyalty, Modric took to Twitter to share his excitement about the contract extension, simply stating "Home Sweet Home".
This decision follows in the footsteps of other key players like Toni Kroos, Dani Ceballos, and Nacho Fernandez, who have also chosen to extend their contracts with Real Madrid this summer.
Real Madrid has not only secured their existing talents but has also made a notable acquisition this season.
The addition of England international Jude Bellingham from Borussia Dortmund has further intensified competition within the team's midfield.
As the 14-time European champions, Real Madrid continues to solidify their squad with experienced and skilled players like Modric, ensuring their pursuit of success in both domestic and international competitions.