Montpellier rejects €25M bid for Elye Wahi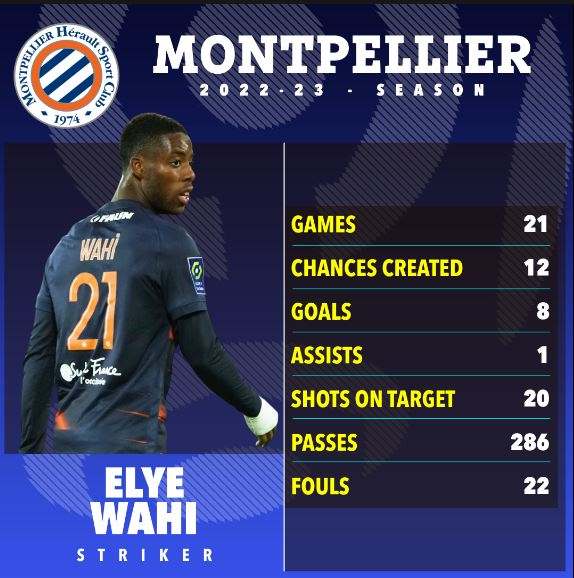 Montpellier's talented and prolific young striker, Elye Wahi, appears poised to secure a lucrative transfer during the upcoming summer transfer window, following an exceptional season with the Ligue 1 club.
Wahi has been in sensational form, netting an impressive tally of 17 goals and providing four assists in the league for his team.
His outstanding performance reached a pinnacle last week when he scored an impressive quadruple against Lyon's Anthony Lopes, becoming the first Ligue 1 player to achieve this feat since Kylian Mbappe did so for PSG in 2018.
Montpellier is acknowledging the inevitability of Wahi's departure.
The presence of scouts from Liverpool and Arsenal at the Lyon-Montpellier match, which ended in a thrilling 5-4 victory with Alexandre Lacazette also bagging a quadruple, further underscores the growing interest in the young forward.
In an interview with L'Equipe, Montpellier president Laurent Nicollin disclosed that he has already turned down offers from a Premier League club for Wahi. "We are conversing with his agents at the moment. If we receive an acceptable offer, we will open the door for his departure; otherwise, he will continue to play for us for another season," Nicollin stated.
He also disclosed that he turned down a €25 million offer, plus additional bonuses, from an English club in January.
Nicollin believes that Wahi possesses the potential to play for Europe's top clubs, and he may reconsider his stance if a bid in the region of €30 million is submitted.
Wahi's contract with Montpellier is scheduled to conclude in 2025.
In the meantime, the 20-year-old remains focused on further increasing his goal tally when Montpellier plays against Nantes at the Stade de la Beaujoire on Saturday afternoon.