Lionel Messi Inspires Inter Miamis Dramatic Victory in Leagues Cup Quarter-Finals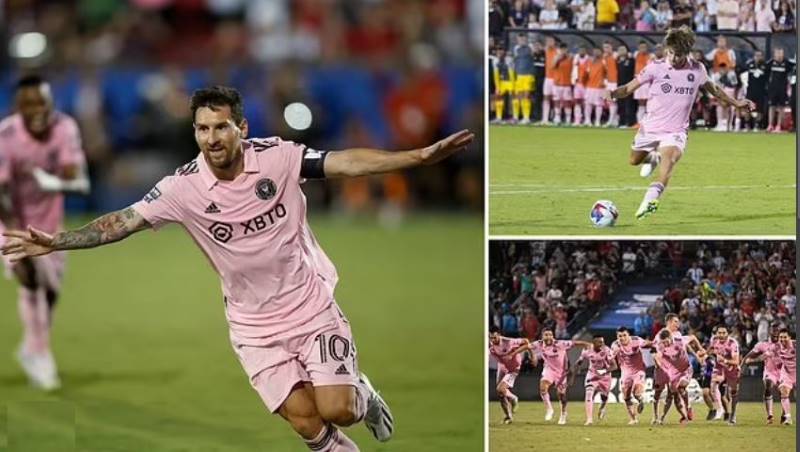 In a thrilling showdown that will be remembered for years to come, Inter Miami orchestrated a remarkable comeback to secure a spot in the quarter-finals of the Leagues Cup, thanks to the magic of their talismanic star, Lionel Messi.
The Argentine maestro's breathtaking brace, coupled with a nerve-wracking penalty shootout, propelled Miami to a 5-3 victory over FC Dallas at the iconic Toyota Stadium in Frisco, Texas.
The match initially seemed to favor FC Dallas, who took a commanding 4-2 lead with just ten minutes remaining.
However, Inter Miami showcased an unwavering fighting spirit and determination, refusing to surrender to the odds stacked against them.
"Being 4-2 down in the 80th minute and then coming back, we are very happy with the result," praised Miami manager Gerardo Martino, underlining the team's resilience.
While celebrating the triumphant victory, Martino also emphasized the need for continuous improvement.
"But the fact that we have gone through shouldn't let us lose sight of the things that we have to improve," he stated, acknowledging that there's always room for growth and enhancement.
The heroics of Messi, who joined Inter Miami from Barcelona and Paris St-Germain, played a pivotal role in this astounding comeback.
The Argentine dynamo opened the scoring in the sixth minute with a sublime curling shot from outside the penalty area.
Despite Dallas surging ahead 3-1, midfielder Benjamin Cremaschi managed to reduce the deficit for Miami.
A twist of fate saw Robert Taylor's own goal restoring Dallas' two-goal lead, only to be countered by Messi's relentless determination.
The turning point arrived in the 80th minute when Marco Farfan inadvertently headed a Messi cross into his own net, giving Miami a glimmer of hope.
Five minutes later, the 36-year-old football icon once again etched his name into the annals of history with a stunning free-kick that leveled the tie and brought his total tally to an impressive seven goals in just four appearances.
As the match concluded in a penalty shootout, Messi exhibited his class once more by confidently converting his spot-kick.
His former Barcelona teammate, Sergio Busquets, also showcased composure under pressure, sealing the victory for Miami.
A missed penalty by Paxton Pomykal proved costly for FC Dallas, cementing Inter Miami's place in the quarter-finals of the Leagues Cup.
With this sensational win, Inter Miami becomes the first club to secure a coveted spot in the quarter-finals of the Leagues Cup.
The Leagues Cup, a competition launched in 2019, has quickly become a platform for teams from the United States and Mexico to showcase their prowess in a knockout format.
To sum up, Lionel Messi's exceptional showcase of talent, resolve, and captaincy drove Inter Miami to a sensational triumph against FC Dallas in the Leagues Cup.
This match stands as proof of the potent force that teamwork and indomitable athlete spirit can be, defying daunting challenges.
As Inter Miami forges ahead in the tournament, global football enthusiasts eagerly anticipate the unfolding of the next riveting chapter in this saga of fervor, rivalry, and the quest for greatness.