Legendary Star Zlatan Ibrahimovic Retires at 41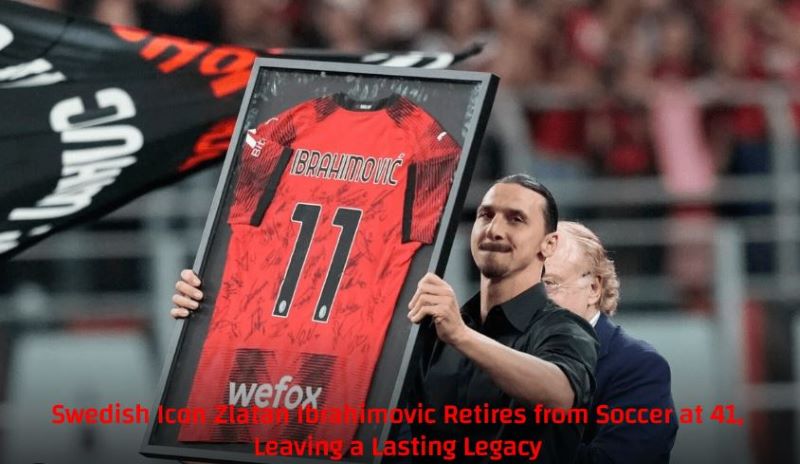 The striker's contract with AC Milan is set to expire at the end of June, and he had previously stated that he would not be renewing it due to a season marred by injuries.
On Sunday, the Swedish legend made an announcement that indicated his retirement from football.
Ibrahimovic, visibly emotional, received a tribute from the Milan fans, who displayed a large Tifo spelling out 'Godbye'. His teammates then formed a guard of honour as he left the field.
The striker began his professional career at Malmo FF in 1999 before joining Ajax Amsterdam in 2001. Following his time at Ajax Amsterdam, Zlatan Ibrahimovic embarked on an illustrious career that saw him play for several prestigious European clubs, including Manchester United, Inter Milan, and AC Milan.
In early 2020, he returned to Milan for his second spell with the team, having previously won the Scudetto with them in 2011 and contributing to their recent title triumph.
Notably, Ibrahimovic holds the record for the highest number of goals scored by a Swedish player, having netted 62 times in 121 international matches.
While he retired from the national team after Euro 2016, he made a comeback in 2021 to participate in their World Cup qualifying campaign, which unfortunately ended without success.
Earlier in the match against Hellas Verona, Rafael Leao celebrated his second goal and Milan's third by sharing the moment with the veteran striker on the sidelines. AC Milan emerged victorious with a 3-1 scoreline.
In his post-match statement, Ibrahimovic expressed his gratitude and recounted his experiences. He said that he had numerous memories and had experienced a range of emotions during his time there.
He mentioned that when he first arrived, they had brought him happiness, and the second time, it had been love. He extended his thanks to his family, close ones, the players whom he considered his second family, as well as AC Milan head coach Stefano Pioli and his staff for the opportunities and responsibilities given to him.
Furthermore, he expressed appreciation towards the management for the chance to be a part of the team.
However, the most important gratitude he wanted to express was to the fans. Ibrahimovic stated that from the depths of his heart, he wanted to express gratitude to the fans.
He acknowledged that they had embraced him wholeheartedly, making him feel at home, and he affirmed that he would always remain a devoted Milan fan.
He mentioned that the time had come for him to say goodbye to football but not to the fans. He added that he had an abundance of emotions coursing through him and bid farewell for the time being, expressing the possibility of meeting again in the future.
He concluded with "Forza Milan and goodbye."