Juventus drops to tenth place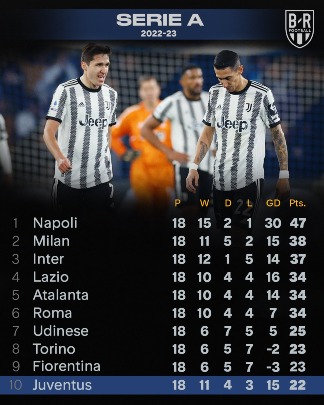 Juventus lose 15 points, drops down to the tenth place, ex-board members banned.
Back in 2006 due to the 'Calciopoli' scandal, Juventus were relegated to Series B. This year again, Juventus has unfortunately, made it to the headlines for all the wrong reasons.
The trial with Juventus and eight clubs which ended last year was recently re-opened by the FIGC (Italian Football Federation).
Juventus has been accused of false accounting and plusvalenza. Plusvalenza is basically the profit made from the sales while transferring a player.
The club was charged for forging financial reports by exaggerating players' transfer values, saving the club millions in player salaries and transfer budgets.
A total of 62 transfers were investigated, of which 42 of them involved Juventus, including the swap of Arthur and Miralem Pjanic with Barcelona. Juventus claimed to have saved $97million in player salaries back in 2020.
In November, the Juventus president Andrea Agnelli and vice-president Pavel Nedved resigned from their posts after suspicions about financial figures were raised by the authorities.
The eight clubs Genoa, Empoli, Sampdoria, Pro Vercelli, Novara, Pisa, Pescara and Parma were all under inspection, however, all have been acquitted.
The Italian Football Federation confirmed the punishment by sanctioning Juventus with a 15-point penalty, making the club drop down to the TENTH place from the THIRD place.
The European Super League advocate, Andrea Agnelli, has been banned for 24 months, whereas Pavel Nedved has been banned for eight months. Fabio Paratici, current Tottenham sporting director has also been banned for 30 months. Other board members like, Maurizio Arrivabene faces a 16 month' ban, while Paolo Garimberti, Enrico Vellano, Assia-Venier, Caitlin Hughes, Daniela Marilungo, Francesco Roncaglio all have been banned for 8 months.
Juventus have denied the allegations, and have announced they will appeal the ruling.
Dusan Vlahovic and Leonardo Bonucci took to their social media showing their support for Juventus.
Vlahovic states that Juventus is not afraid of losing a few points and will make a stronger comeback. Bonucci referred to Juventus as a seven headed dragon, who will not give up as you cut one head another will emerge.
Only twenty games left for this season. We wish Juventus the best.