FIFA President Threatens TV Blackout of Women World Cup in Europe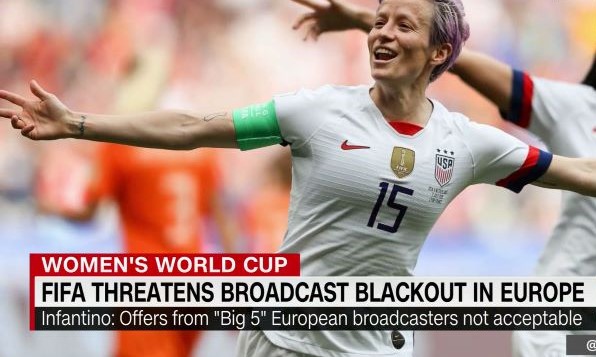 Gianni Infantino, the FIFA president, has issued a warning that the upcoming Women's World Cup may not be televised in five European countries, namely the UK, France, Germany, Italy, and Spain, due to a financial dispute.
He has threatened to withhold the broadcast of the upcoming Women's World Cup in five European countries due to dissatisfaction with the financial offers from broadcasters.
Infantino described the bids as disrespectful to both women in general and the accomplished players. He stressed that FIFA has a moral and legal obligation to ensure the tournament is not undervalued.
The Women's World Cup will be co-hosted by Australia and New Zealand from July 20th to August 20th.
Infantino stated that if the offers fail to meet the criteria of fairness for women's football, FIFA may refrain from granting broadcasting rights in the "Big 5" European markets.
The broadcasters' proposed amounts ranged from $1 million to $10 million, significantly lower than the sums offered for the men's World Cup, which range from $100 million to $200 million.
This is not the first time Infantino has expressed these concerns. He reiterated his position at the World Trade Organization headquarters in Geneva, emphasizing the need for broadcasters to pay a fair price for the media rights of the Women's World Cup.
FIFA has already taken steps to address the issue by increasing the prize money to $152 million, three times the amount awarded in 2019 and ten times more than in 2015.
Infantino highlighted several reasons why the broadcasters' offers were deemed unacceptable.
Firstly, he stressed that all rights fees would be invested directly in women's football to promote equal conditions and compensation.
Secondly, he pointed out the responsibility of public broadcasters to support and promote women's sports.
Additionally, he emphasized the relatively high viewership of the Women's World Cup compared to other events, with figures reaching 50-60% of the men's World Cup.
Despite this, the bids for the Women's World Cup in the "Big 5" European countries were 20 to 100 times lower than those for the men's tournament.
While broadcasters pay $100-200 million for the men's World Cup, their offers for the women's equivalent ranged from only $1 million to $10 million.
Infantino strongly criticized this substantial discrepancy, considering it a disrespectful treatment of women players and women worldwide.
He called on players, fans, football officials, presidents, prime ministers, politicians, and journalists to support the demand for fair remuneration in women's football.
FIFA's goal is to achieve equal pay between the men's and women's World Cups by 2026 and 2027, a commitment announced during FIFA's annual congress in March.