Bavarians stand firm Hernandez not for sale to PSG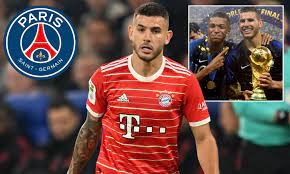 Bayern Munich has made it clear that they have no plans to sell Lucas Hernandez to Paris Saint-Germain (PSG) in the upcoming summer transfer window.
Reports had emerged stating that Hernandez, who won the 2018 World Cup with the French national team, had already reached an agreement with PSG on personal terms.
According to L'Equipe's latest report, Bayern Munich and PSG Sporting advisor Luis Campos had indeed found a primary agreement. Hernandez perfectly fits the requirements that PSG is seeking in the market.
Despite some doubts about his performance following an ACL tear in France's World Cup opener against Australia, Hernandez is still considered a valuable asset.
He is a versatile player who excels in both the left-sided center-back position and as a left-back.
However, Bayern Munich is adamant about holding onto Hernandez, for whom they paid a club record fee of €80 million to acquire from Atletico Madrid in 2019.
In fact, the club has gone as far as offering Hernandez a contract extension that would keep him at Bayern until 2027.
Bayern Munich's Sporting director, Hasan Salihamidzic, has expressed his readiness to present Hernandez with a three-year deal in an attempt to persuade the 27-year-old, to remain in Germany.
The transfer window could prove to be a tense period for Hernandez, as his fellow teammate Benjamin Pavard is also entering the final year of his contract with Bayern Munich.
Sources mention that there is no indication whether Pavard intends to extend his stay with the club or not.
In conclusion, Bayern Munich has firmly stated that they have no intention of parting ways with Lucas Hernandez and are actively working to secure his long-term commitment.
PSG's pursuit of Hernandez may face significant hurdles due to Bayern's firm stance, and the transfer window is expected to be an intense period for the player, especially considering the uncertain future of his teammate Benjamin Pavard.