Arsenals Ambitious Double Deal - Declan Rice and the Balogun Discount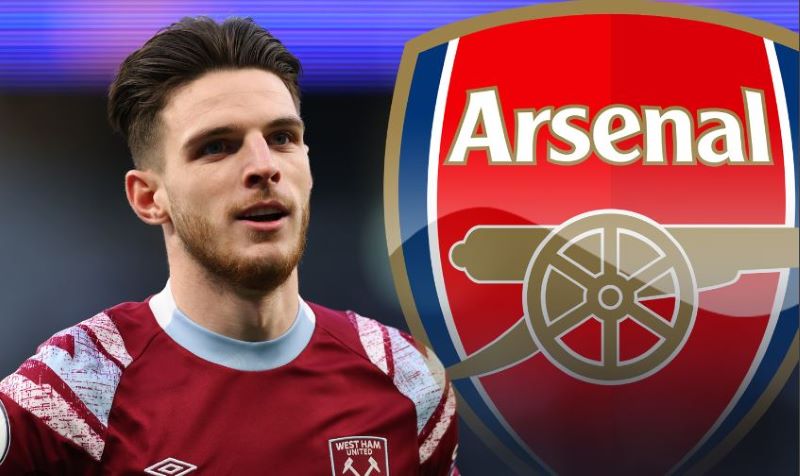 Arsenal's potential acquisition of Declan Rice from West Ham could be significantly discounted thanks to the involvement of young striker Folarin Balogun this summer.
The Gunners are poised to break their club-record transfer fee by securing the services of the 24-year-old midfielder, surpassing the £72 million spent on Nicolas Pepe.
The deal is reportedly valued at a staggering £105 million, with an agreement already reached between Arsenal and West Ham.
Despite interest from rivals Manchester City, who initially made offers but subsequently withdrew from the race, Rice is expected to join the Emirates Stadium outfit.
Contracts have been drawn up, and medical tests reportedly completed, leaving only the final approval before an official announcement can be made.
This high-profile signing demonstrates Arsenal's ambition to compete at the highest level in the upcoming season and beyond.
However, for the financial aspect to work out and squad balance to be maintained, some player movements within the team are expected.
Already, Granit Xhaka has departed for Bayer Leverkusen in a deal understood to be worth £21.5 million, as reported by sources.
It is also understood that Thomas Partey, Xhaka's former midfield partner, may leave if a suitable offer materializes.
These departures signify the club's efforts to generate funds and create space in the squad.
Furthermore, there is the possibility of young striker Folarin Balogun departing Arsenal, following a successful loan spell with Reims.
The talented USMNT international is reportedly seeking more guaranteed playing time, which may be uncertain with the Gunners.
However, a pre-season opportunity under the guidance of manager Mikel Arteta could potentially change his outlook.
According to sources, interest in Balogun has been expressed by German side RB Leipzig, among other clubs.
West Ham has also been linked with the promising young forward, and valuations of Balogun range from £30 million to £50 million.
At present, bookmakers Ladbrokes favor West Ham as the most likely destination for Balogun this summer.
If the Hammers are willing to pay the top fee, it could provide Arsenal with a significant discount on the net spend for the Declan Rice transfer, potentially amounting to £50 million.
While it remains uncertain whether such an outcome will materialize, it would offer Arsenal additional flexibility to make further signings during the transfer window.
In conclusion, Arsenal's pursuit of Declan Rice signifies their determination to compete at the highest level, while the potential involvement of Folarin Balogun in a separate transfer could present them with a substantial financial advantage. As the summer transfer window unfolds, it will be intriguing to see how Arsenal's squad evolves and whether they can strengthen their team further to mount a serious challenge in the upcoming season.